Welcome to City of Wink

City of Wink… the Town That Oil and Friendship Built

Wink began in 1926, when oil was discovered in Hendrick Oilfield. Wink was originally named Winkler, Texas, for the county. However, when a post office was requested during the oil boom in the late 1920s the name Winkler was already in operation and as a result the citizens shortened the name to Wink. Although the City's population has since declined to become a small oil town, we are defined less by boundaries on a map than by the sense of community our residents hold dear.

Wink was a temporary childhood home to singer and songwriter Roy Orbison. In high school, Orbison and some friends formed the band Wink Westerners. They played country standards and Glenn Miller songs at local honky-tonks and had a weekly radio station on KERB in Kermit, Texas.

Wikimedia Foundation. (2022, June 26). Wink, Texas. Wikipedia. Retrieved July 26, 2022, from https://en.wikipedia.org/wiki/Wink,_Texas

Wikimedia Foundation. (2022, July 20). Roy Orbison. Wikipedia. Retrieved July 26, 2022, from https://en.wikipedia.org/wiki/Roy_Orbison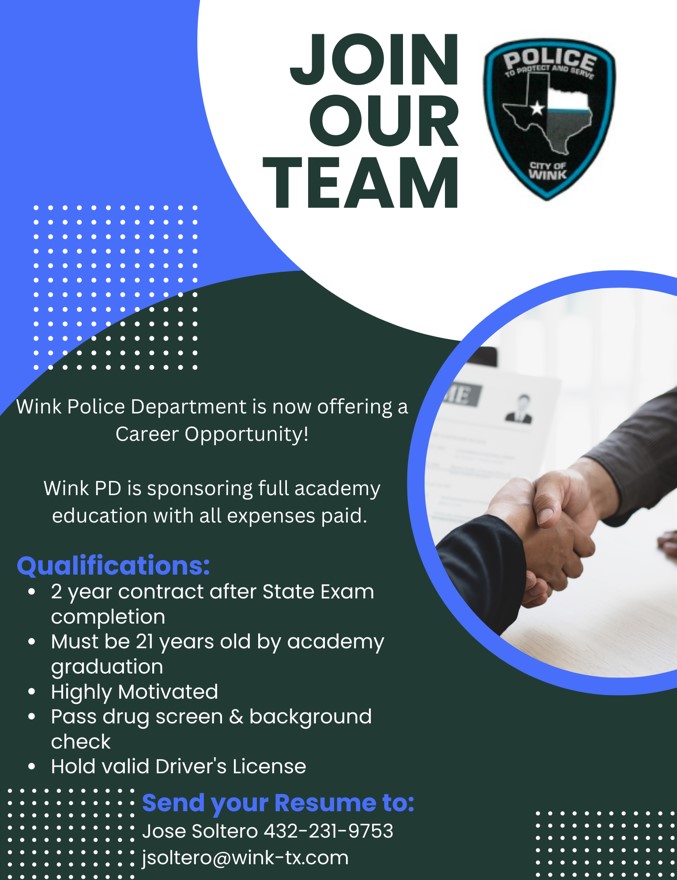 Wink PD now Sponsoring full Academy
Wink Police Department is now offering a Career Opportunity!
Wink PD is sponsoring full academy education with all expenses paid.
For more information please contact Chief Soltero.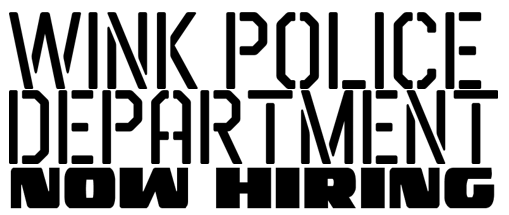 Now Hiring! Full Time Position for Patrol Officer
The City of Wink is seeking a professional individual to fill a full-time position of patrol officer. This individual must be TCOLE certified, highly motivated and proactive. The City of Wink provides officers with a Chevy Tahoe take home unit, outfitted with updated equipment as well as affordable housing. Officers are issued uniforms and service weapons. Officers work 12 hours shifts with every other weekend off. The pay is based on experience. For application inquires or questions regarding the position, please contact Wink Police Chief Jody Soltero.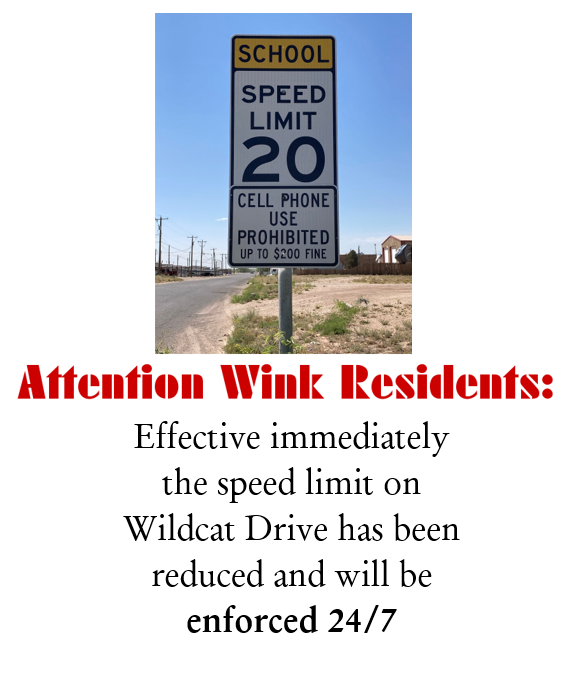 Attention: Wildcat Drive Speed Limit Reduced
Attention Wink Residents:
Effective immediately the speed limit on Wildcat Drive has been reduced and will be enforced 24/7
Featured News
New City Marquee
9/27/2023
Thank you Out Front Graphics and Signs for helping us install the new City Marquee!
LEGAL NOTICE for Public Hearing September 12, 2023
8/31/2023
Notice is hereby given that a PUBLIC HEARING will be conducted on Tuesday, September 12, 2023, at 5:30 p.m. in the Wink City Hall Council Chambers.
All interested parties are invited to attend.
Resident Reminder!
6/27/2023
Resident Reminder:
NO bulky items in the dumpsters! Only household trash is allowed.
Republic Trash Services will NOT pick up the dumpster with bulky items.
Any questions, call City Hall.